Shell mold casting process offers better surface finish, better dimensional tolerances, and higher throughput due to reduced cycle times. The materials that can be used with this process are cast irons, and aluminum and copper alloys. Typical parts made with this process are connecting rods, gear housings, lever arms etc.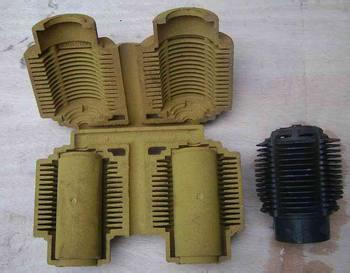 Shell Mold Casting
Introduction:

Our foundry in Zhejiang does shell mold casting for steel and aluminum. The shell molding process produces cost savings solutions for difficult shapes, pressure vessels, weight sensitive parts, and castings requiring superior surface finishes. Shell Molding casting includes the following steps:
1. Sand is pre-coated with a resin that bonds the sand grains together.
2. A tool, or pattern, is coated with the resin coated sand.
3. The coated pattern is heated, curing or hardening the sand. This part of the process bonds the resin and sand creating a hard surface shell that is .5" to 1" thick.
4. The hardened shell mold is stripped from the pattern. This creates one half of the cavity that will be used as the mold. The process is   repeated to create the other shell mold half.
5. Two shells are glued together to form the cavity that holds the molten metal.
6. Once the mold is created it is loaded onto the conveyor line and molten metal is poured into it.
7. After the mold goes through a cooling process, the sand shell is stripped from the casting.
8. The sand is recycled and the part is ready for machining or surface finishing.
Material: Iron, Grey Iron, Ductile Iron, Carbon Steel, Stainless Steel, Alloy Steel, Aluminum, Aluminum Alloy etc.

Our Advantages:
1. We have more experience in export casting to Western countries for more than 8 years.
2. We provide OEM services and have a team of experienced engineers.
3. We have a big warehouse combining quality control, inspection,packaging.