Green sand is the best known of all the sandcasting methods. The green sand is basically a wet mixture of sand and clay, no chemical is added. The sand mold is squeezed together and holds its shape. This forms a "green" mold which must be dried to receive the hot metal. If the mold is not sufficiently dried a steam explosion can occur that can throw molten metal about. Green sand casting is cheaper than resin sand casting.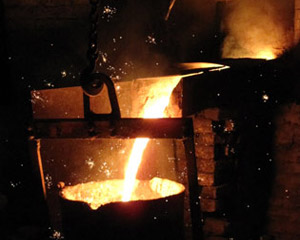 Green Sand Casting
Advantages of Green Sand Casting:
1. Most ferrous / non-ferrous metals can be used.
2. Low Pattern & Material costs.
3. Almost no limit on size, shape or weight of part.
4. Adaptable to large or small quantities
5. Used best for light, bench molding for medium-sized castings or for use with production molding machines.
Shanghai Sourcing casting foundry in China uses green sand casting to more advanced binding processes to manufacture a wide variety of products for many different industries. We provides a quality affordable solution for repeatable metal products with cast-in details and features. These green sand casting parts are high quality and very cost effective. We are able to utilize our low cost structures in China, and provide a low cost final product, lower than almost any other green sand casting manufacturer.