Brass gravity casting can also be called brass high pressure casting or brass permanent mold casting. Brass gravity cast products have a much superior surface quality than that of brass sand cast products.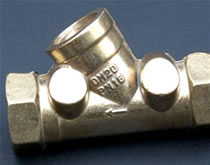 Brass Gravity Casting
Application of Brass Gravity Casting:
The brass gravity cast products made by Shanghai Sourcing are mainly used in fluid control system, such as brass valves,couplings and adapters. Such brass cast parts have a wide application in mine industry, oil field, fire fighting field, fluid pressure transmission parts and etc.
Besides brass valves,we also produce house decoration parts, brass cast kitchen parts, and brass cast furniture parts. You may customize your own design here with assistance of our casting engineers. We are willing to produce more brass cast products to serve more industries.
We have a tight network of gravity casting, low pressure casting foundries that have proven their quality standards to us through past cooperation. Some of them are listed below:
Foundry1, Foundry2, Foundry3
Last by not least, we offer highly competitive price. Give us a try; please send RFQ/Drawings by emailing contact@csmmg.com