Distinct Benefits: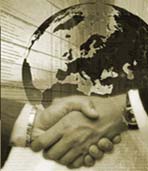 1. China Cost Structure: Comparing to Western factories, our costs are usually drastically (30%-40%) lower.
2. Communication: Avoid the headache of dealing with too many factories that don't understand you well. We are English-Speaking and will actually call you.
3. Competency: Unlike most trading firms, we have in-house bi-lingual engineering capabilities, mature quality assurance processes and dedicated QC team.
Supply Management:
1. On-demand / Onsite quality inspection, yield monitoring, process control/compliance
2. Quality control system: ISO9K, statistical control methodology, Kanban, Kaizen
3. Manage defect feedback
4. Manage delivery shortage
5. Forecast sharing
6. Communicate your requirements and expectations to suppliers on a routine basis
7. Vendor abnormality alarming
Logistics Service:
1. Freight forwarding
2. Expedite custom clearance
3. Shipping consolidation
4. Content inspection and repackaging
Certification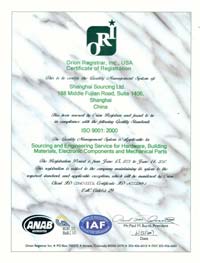 Achieving ISO 9000 is just a start and serves as foundation for continuous process improvement. At Shanghai Sourcing, we have installed process management for all key operations for consistency, traceability, speed, accuracy and control.  We provide weekly trainings (case studies) to all our purchasing staff to reinforce quality mentality and share experiences.  These efforts ultimately benefit our customers with better product quality and service.
Our Quality Guarantee Policy
1. We take full responsibility for product quality.
2. First of all, we will do everything we can to only ship quality products to customers.
3. If a quality issues is identified, we with either replace them or fully refund the customer.