Shanghai Sourcing's strong network of quality foundries can work with a variety of casting materials. If you are not sure about material selection, please simply email us, and our engineer would gladly help.
1. Grey Iron (All Grades)
Top Cover
(ASTM A48 Class 35,30KG)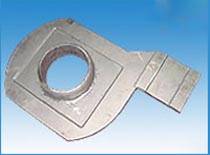 Thin Wall Housing
(ASTM A48 Class 35, 80KG)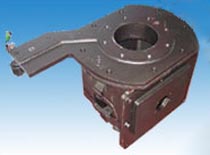 ASTM A48 (Class 30, 35, 40 Gray Iron Castings)
ASTM 159 or SAE J431 ( G4000, G3500, G3000, G2500, G1800) Automotive Gray Iron Castings
ASTM A319 Class I, II, III Gray Iron Castings for Elevated Temperatures
ASTM A436 (DIN 1694, BS 3468) Ni-Resist Castings, Austenitic Gray Iron Castings
DIN 1691 (GG10, GG15, GG20, GG25, GG30, GG35)
EN 1561 (EN-GJL-200, EN-GJL-250, EN-GJS-300, EN-GJS-350, EN-GJS-400, EN-GJS-500, EN-GJS-600, EN-GJS-700), ISO 185
2. Ductile Iron Castings
Grate Seal
(ASTM A536 80-55-06 high silicon, 30KG)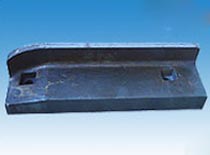 Rotors
(DIN GGG-60, 3~5KG)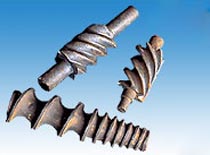 ASTM A536 (60-40-18, 65-45-12, 80-55-06, 100-70-03, 400-15, 500-7, 600-3) Ductile Iron Casting
ASTM A439 (DIN 1694, BS 3468) Austenitic Ductile Iron
ASTM A897 Austempered Ductile Iron ADI
ASTM A571 Low Temp, Pressure-Containing
DIN 1693 (GGG-30, GGG-40, GGG-50, GGG-60, GGG-70, GGG-80)
EN 1563 (EN-GJS-400-15, EN-GJS-450-10, EN-GJS-500-7, EN-GJS-600-3, EN 1563 EN-GJS-400-18-LT)
SAE J434 (D4018, D4512, D5506?D5504?D7003, D700, D800, D400)
ISO 1083, BS 2789
3. Malleable Iron Castings
ASTM A47 (22010, 32510, 35018) Ferritic Malleable Iron Castings
ASTM A220 (40010, 45008,50005,60004,70003, 80002,90001) Pearlitic Malleable Iron
ASTM A602 Automotive Malleable Iron Castings
DIN 1692 (GTS-35-10, GTS-70-02, GTS-65-02, GTS-55-04, GTS-45-06)
SAE J158 (M3210, M4504?M8501?M5503, M5003, M7002)
4. Steel Castings
ASTM A27 Carbon Steel Castings, ASTM A148 High Strength, Structural 
ASTM A128 Austenitic Manganese 
ASTM A487 Steel Castings for Pressure Service 
ASTM A216(WCA, WCB, WCC) Carbon Steel Castings for Fusion Welding
ASTM A217(WC1, WC4, WC5, C5) and ASTM A389 Steel Castings Alloy, Pressure-Containing, High-Temp
ASTM A352(LC1, LC2, LC3) Pressure-Containing Parts, Low-Temp
ASTM A732 Investment Castings, Carbon Steel and Low Alloy and Cobalt Alloy 
ASTM A597 Tool Steel 
MIL-S-22131, MIL-S-15083, MIL-S-22141, MIL-S-81591
QQ-S-681, AMS 5336, AMS 5338, ISO 185, SAE (SAE0030, SAE0105)
DIN 1681, DIN 17245, DIN 17465, DIN SEW395 
5. Stainless Steel Castings
Austenitic

ASTM A743 (CF-8, CF-8M, CF-3, CF-3M, CK-20) Iron-Chromium, Iron-Chromium-Nickel, Corrosion R.
AISI 304?16?04L?16L
DIN 1.4308?.4408?.4309?.4409?.4581
AMS 5358, AMS 5360, AMS 5362,AMS 5341, AMS 5370

Ferritic

AISI430

Martensite

AISI420, 416, 440C
AMS 5350, AMS 5349, AMS 5354, AMS 5352

Precipitation Hardening

ASTM A747 CB7Cu-1?17-4PH
AMS 5355, AMS 5342, AMS 5343, AMS 5344, AMS 5346

Duplex Stainless

ASTM A890 (CD4MCu), ASTM A995, EN10283

Heat Resistant

ASTM A297 (HH, HK, HF, HT)

Others

ASTM A351 austenitic stainless, pressure-containing
ASTM A447 High Temp, ASTM A757 Low Temp
MIL-S-81591, EN 10283
6. Other Ferric Castings
White Iron / Ni-Hard Castings ASTM A-532
Inconel ASTM A744,ASTM A7473 
Hastelloy AMS 5388, AMS 5396, AMS 5390 
7. Aluminum Castings
Frequently used materials

A356, A360, A380,A390, A383, A413, AlSi10Mg, ADC-12, ADC-14, LM4, LM6, LM9

Standards

ASTM B26 Aluminum Alloy Sand Castings
ASTM B108 Permanent Mold Castings
ASTM B85 Die Castings
ASTM B618 Investment Castings
QQ-A-596, QQ-A-601, SAE J453c, Mil-A-21180?DIN 1725
8. Brass Casting and Bronze Casting
Frequently used materials

C6801, C6802, C6803, C6804, C23000, C6931, C6932?CDA 220 Com. Bronze, CDA 230 Red Brass , CDA 268 Yellow Brass, CDA 316 Leaded Bronze, CDA 510 Phos. Bronze, CDA 642 Al Bronze,CDA 655 High Silicon, CDA 903 Tin Bronze, CDA 863 Mn Bronze, CDA 875, CDA 874, CDA 820, CDA 825, CDA 825, CDA 828

Standards

ASTM B584 copper alloy sand castings
MIL-C-22087, MIL-B-16444, QQ-C-593, QQ-L-225, QQ-B-691, QQ-C-390,QQ-B-726, AMS-4855,AMS-4855, AMS-4860, SAE-620,SAE-40,SAE-43
9. Zinc Die Castings
Zamak ZA3, ZA8, ZA12, ZA27, Zinc alloy 2, 3, 5, 7 
To reference equivalent standards, click here for comparison table.
Associated Standards
DIN 1691 Grey Iron
ASTM A48/A48M-03 Standard Specification for Gray Iron Castings
ASTM A159-83(2006) Automotive Gray Iron Castings
ASTM A319-71(2006) Gray Iron Castings for Elevated Temperatures for Non-Pressure Containing Parts
ASTM A436 -84(2006) A436 -84(2006) Standard Specification for Austenitic Gray Iron Castings
ASTM A536-84(2004) Standard Specification for Ductile Iron Castings
ASTM A571/A571M-01(2006) Austenitic Ductile Iron Castings for Pressure-Containing Parts Suitable for Low-Temperature Service
ASTM A439-83(2004) Austenitic Ductile Iron Castings
ASTM A897 -06 Standard Specification for Austempered Ductile Iron Castings, Ausferrite, Austempering, Ductile Cast Iron
ASTM A47/A47M-99(2004) Standard Specification for Ferritic Malleable Iron Castings
ASTM A220 -99(2009) Standard Specification for Pearlitic Malleable Iron
ASTM A602-94(2004) Standard Specification for Automotive Malleable Iron Castings
ASTM A27 / A27M - 08 Steel Castings, Carbon, for General Application
ASTM A148 / A148M -08 Steel Castings, High Strength, for Structural Purposes
ASTM A128 / A128M -93(2007) Steel Castings, Austenitic Manganese
ASTM A216 / A216M - 08 Standard Specification for Steel Castings, Carbon, Suitable for Fusion Welding, for High-Temperature Service
ASTM A217 / A217M - 08 Standard Specification for Steel Castings, Martensitic Stainless and Alloy, for Pressure-Containing Parts, Suitable for High-Temperature Service
ASTM A487 -93(2007) Standard Specification for Steel Castings Suitable for Pressure Service
ASTM A389 -08 Standard Specification for Steel Castings, Alloy, Specially Heat-Treated, for Pressure-Containing Parts, Suitable for High-Temperature Service
ASTM A352 -06 Standard Specification for Steel Castings, Ferritic and Martensitic, for Pressure-Containing Parts, Suitable for Low-Temperature Service
ASTM A732 / A732M Standard Specification for Castings, Investment, Carbon and Low Alloy Steel for General Application, and Cobalt Alloy for High Strength at Elevated Temperatures
ASTM A743 / A743M Standard Specification for Castings, Iron-Chromium, Iron-Chromium-Nickel, Corrosion Resistant, for General Application
ASTM A747 / A747M Standard Specification for Steel Castings, Stainless, Precipitation Hardening
ASTM A890 / A890M Standard Specification for Castings, Iron-Chromium-Nickel-Molybdenum Corrosion-Resistant, Duplex (Austenitic/Ferritic) for General Application
ASTM A297 / A297M Standard Specification for Steel Castings, Iron-Chromium and Iron-Chromium-Nickel, Heat Resistant, for General Application
ASTM A351 Standard Specification for Castings, Austenitic, for Pressure-Containing Parts , austenitic stainless steel, pressure containing parts
ASTM A447 / A447M Standard Specification for Steel Castings, Chromium-Nickel-Iron Alloy (25-12 Class), for High-Temperature Service, ausenitic stainless steel
ASTM A757 Standard Specification for Steel Castings, Ferritic and Martensitic, for Pressure-Containing and Other Applications, for Low-Temperature
ASTM B26 / B26M - 09 Standard Specification for Aluminum-Alloy Sand Castings
ASTM B108 / B108M - 08 Standard Specification for Aluminum-Alloy Permanent Mold Castings
ASTM B85 / B85M - 09 Standard Specification for Aluminum-Alloy Die Castings
ASTM B618 / B618M -08 B618 -08 Standard Specification for Aluminum-Alloy Investment Castings
ASTM B584 General purpose copper alloy sand castings