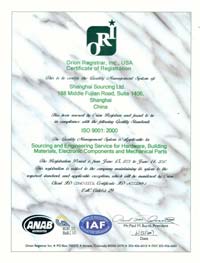 ISO 9000 is just a start and serves as foundation for continuous process improvement. We have installed process management for all key operations for consistency, traceability, and control.
We are a engineering and custom manufacturing company with established network of casting foundries in China (Sand Casting, Die Casting, Lost Wax Casting). We offer the most efficient way to source low cost casting products and parts. We manage the total process from quotation, to manufacturing, to quality checking and shipping.
About Us
1. Forty sourcing experts and engineers in China. We have mature quality assurance processes, a dedicated QC team, in-house bilingual engineering capabilities. Our head office is in Shanghai and we have a branch office in Ningbo.
2. We are ISO 9001 certified, and own a 30,000 sq. feet facility in Shanghai for quality testing, assembly, packaging and warehousing.
3. Mature supply base in China: network of several hundred reputable and trusted casting foundries that we have worked with.
Our Advantages:
1. Control Risk: We help you pre-qualify suppliers, monitor production constantly and inspect quality before shipment. Our casting engineers works on-site in the factories on your behalf. This allows us to quickly correct problems and expedite production. Our involvement becomes even more important when your metal casting piece needs precision machining or when the material quality is essential.
2. Good engineering communication is absolutely necessary in custom manufacturing. We are English-Speaking and familiar with European and US engineering standards.
Supply Transparency: you are welcome to audit the actual factories and discuss requirements with them.
3. Best Price in China. Over 90 international companies already buy casting parts from us because we offer both good price and good services. Put us to the test by sending us your drawings to quote.
4. Convenience: We manage export logistics and ship to your door. We also offer flexible payment terms
Our Customers: